About Tom Byer
Judged by his football peers, the local and international media, and the countless number of young Japanese over the space of 24 years, Tom Byer has forever changed the way Soccer is taught and played throughout Japan and now his name and reputation begin to attract great interest from other parts of Asia.
Career Highlights to date
• The Chinese Football Association (CFA) recently announced the appointed Tom Byer as Head Technical Advisor for the Chinese School Football Program Office and Official CSF Grassroots Ambassador. Under the guidance of the State General Administration of Sports and the Ministry of Education, the CSA has launched a plan to promote football into schools across China to enhance the quality of training and coaching of grassroots football. Tom Byer will provide coaching services to coaches and instructors across China and assist the CSF Office to analyze the current status of the CSF Program and on-going enhancement of the curriculum.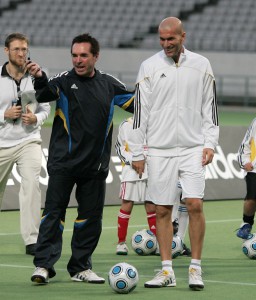 • Tom's operational company T3 was established in 2008 with the focus of educating Japanese school children to world of Soccer.
• Has created tailor made Soccer Clinic Event Programs for Adidas, McDonald's, Coca-Cola, Canon, Dominos Pizza and Nestle which ran for 10 years and featured 50 events nationwide per annum.
• Created a ground breaking 360 degree approach to establishing the Soccer Brand, whilst further increasing the reach to the potential football youth of Japan with introduction of a multi media approach: TV, Magazines, Internet, Books, DVD's Events, Camps, using all the same curriculum.
• A specialist in creating, marketing and operating Soccer Academy business, the Tom Byer Academies are preeminent in Japan for the teaching of purely technical Soccer skills.
• Before launching the Tom Byer Academies – he introduced and headed up the Coerver Program in Japan and Asia for 16 years.
• Current projects ongoing in China and India.

Media and Events
• Starred in his own Japanese television program "Ohasuta", appearing on TV Tokyo's Channel 12, every weekday morning from April 1998 to Dec 2010.
• For almost 20 years – Tom has written a 2 page Technical Corner for Soccer Digest, Japan's largest Soccer Magazine.
• Features in Japan's No. 1 Manga Comic Book for 13 years, "Tomsan's, Let's Try Soccer", 1.2 Million circulation.
• Written 3 books on the Soccer Youth Development for the Japanese market with a 4th scheduled for release in early 2013 – more than 50,000 copies sold to date.
• Released 2 Soccer Instructional Videos for the Japanese market , "Tomsan's Soccer Technics." Sold out 20,000 copies.
• Currently still ranked as the Number One DVD Best Seller within the Football Category on Amazon.com, Japan; "Tomsan's 1v1 Technics" DVD, was released in 2009
• Released at the end of 2010, Tomsan's Coaching A to Z, 3 Part DVD Series, currently Ranked Number One on amazon was endorsed by Takeshi Okada, former Head Coach of the Japan National Team, World Cup 1998 and 2010.
• Recognized by Adidas International in 1997 with a Golden Boot Award, received in Marseille, France.
• Hosted the 2002 World Cup Adidas Golden Ball and Golden Boot unveiling and talk show to the worldwide media together with Franz Beckenbauer, Aime Jacquet and Carlos Alberto Parreira.